About this project
Since 2019 we have completed several furniture projects at Channing School in London, totalling just over £75,000. Working with Prime Meridian Architects, our initial brief back in 2019 was to provide storage furniture for music room classrooms and a corridor. Since then we have completed projects to provide bespoke storage furniture for musical instruments and music stands in the school's performing hall, and most recently we are fitting a 2.2m high walk-in storeroom with steel frame, sliding doors for storage of audience chairs and music equipment. We are also manufacturing a fitted furniture wall in the bursar's office, as well as lockers and furniture for toilet cubicles in other areas of the school.
"David Bailey….deliver what they say, when they say they will and their prices are very competitive." John Bater, Director at Prime Meridian Architects.
The repeat contracts we have won for the school speaks to our long term relationship with the architects and the client, and our ability to tailor products and provide storage solutions to meet a specific and specialist client brief.
Furniture installed
We supplied fitted furniture in the following areas within Channing School
Music classroom & corridor
Performing hall instrument storage
Bespoke furniture tailored to instrument sizes
Walk-in storage for auditorium chairs & equipment
Toilet cubicles
Lockers
Staff room
Kitchen
Furniture wall in bursar's office
Watch: John Bater of Prime Meridian talks about working with DBFS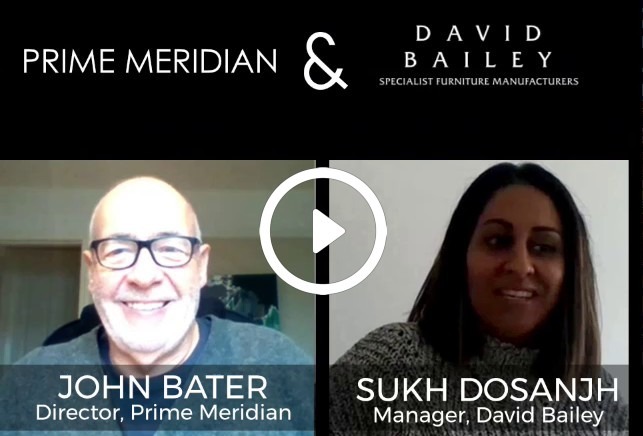 Performing hall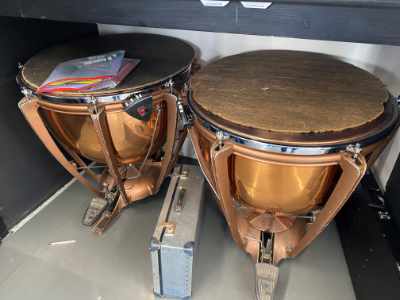 The school wanted storage cupboards for instruments when they were not in use, so that during performances, unused instruments were tidied away out of site. Some of the instruments to be housed were large and odd sizes, for example, drum sets on stands, electric piano, harp, timpani, conga drums, glockenspiel, speakers and cymbals. Because of the variation in instrument sizes, we had to measure every instrument that needed storing, to make sure that the storage units we manufactured, were tailor made to comfortably fit each instrument.
The cupboards were larger than standard size, and to ensure strength we made them from 25mm board, as opposed to the usual specification of 18mm. And for delivery, again because of the large size, having made all the furniture in the factory, we then took it all apart and delivered it flat packed. Our fitters then re-assembled the furniture on site.
Architect quote
"David Bailey….deliver what they say, when they say they will and their prices are very competitive. They just do the job I want and need them to do; and I'm sure they could do anything I requested of them."
John Bater, Director at Prime Meridian Architects.
Walk-in storage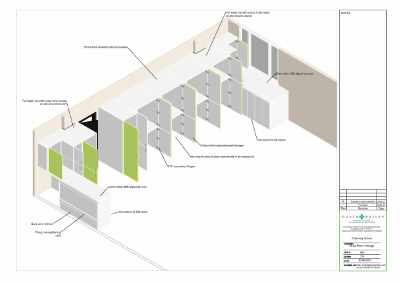 We are now manufacturing and fitting a 2.2m high walk-in storage cupboard in the performance hall, so that the auditorium chairs can be stored away with the equipment. This has a steel frame, covered in panels and with tall sliding doors, effectively creating a walk-in storeroom.
Toilets and lockers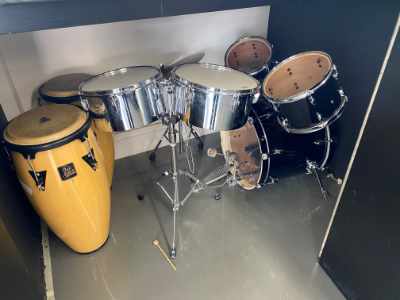 Two different locations within the school have recently required new toilet facility furniture and we manufactured this, to include IPS panels. Part of this order also included lockers for the pupils and a kitchen area and staff room.
Furniture wall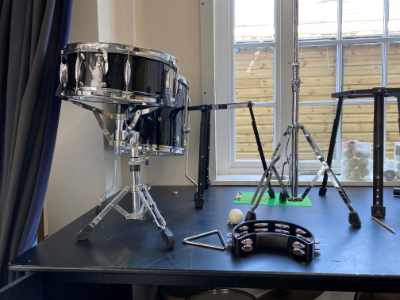 We are manufacturing and installing a floor to ceiling furniture wall for storage in the bursar's office.
Colour scheme
Some of the furniture at Channing School has bright lime green doors, and other areas will have plain white.
Education furniture by David Bailey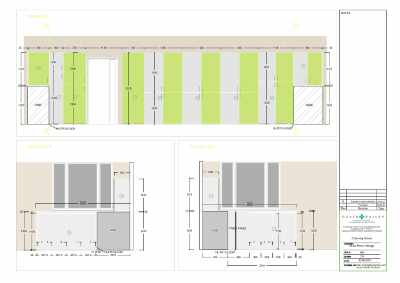 Our Education range of fitted furniture is regularly specified for education establishments throughout the UK, including primary and secondary schools, colleges, universities and special educational needs (SEN) schools. Available in 20 different colours as standard, we can install your education furniture, or deliver ready for you to fit. Our Education range includes wall-mounted and floor-standing units, storage trays and shelving, bookcases and laboratory furniture. We also offer a variety of safe and durable fixtures, fittings and specialist joinery to meet your specific needs. You can view our range of education furniture on our website.
Education furniture installations

Our specialist education furniture is installed in many schools, colleges and further education facilities. We have recently been selected by main contractor E W Beard to manufacture furniture for Headington Girls School in Oxford, in a £65,000 contract. This will be for 45 units and 100 metres of worktop in 11 classrooms. The work will start in November 2020. Other education customers include:
Yateley Community School, Hampshire
Channing School, London
University of Wales
Clore Shalom School, Hertfordshire
Architects and Contractors rely on us because they know we are well established and professional and our durable furniture is manufactured in Britain with craftsmanship and professionalism. We also install our own furniture into a facility, so there is no need to ensure a contractor has installation instructions.
Channing School furniture – where to find out more
Are you specifying fitted furniture for an education or healthcare facility? See short videos of our furniture being made and read testimonials from other architects, contractors and healthcare customers about working with us.
You can see our range of education furniture here.
Or please get in touch with us to discuss a project. Or call us on 01843 604896.
This case study was originally published in 2019 and was updated in October 2021.